News
ZABIERZ PIWO BROVARNIA ZE SOBĄ
Zabierz swoje ulubione Piwo Brovarnia ze sobą!

Nasze wyjątkowe piwa, Złoto Brovarni i Starogdańskie, dostępne są do nabycia także w litrowych butelkach, tylko w Brovarni Gdańsk i Restauracji Hotel Gdańsk. Pasjonaci piwa wyczekują też z niecierpliwością limitowanych edycji Piwa Brovarnia, które nasi piwowarzy przygotowują kilka razy w roku. Piwa limitowane wyróżniają się zawsze unikalnymi walorami smakowymi i oryginalnymi etykietami.

Piwo Brovarnia w litrowych butelkach, np. w zestawie z kuflem, to również idealny pomysł na prezent na każdą okazję – imieniny, urodziny, święta, jubileusze. A jeśli poszukujesz sposobu na uatrakcyjnienie spotkania firmowego lub wyjątkowej prywatnej uroczystości, przygotujemy dla Ciebie nasze piwo ze specjalną zindywidualizowaną etykietą, z logo firmy lub nazwą wydarzenia.
All news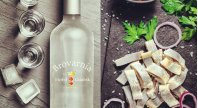 SCOTTISH DAYS IN BROVARNIA GDAŃSK
1-28.02.2019
Read more »
ZABIERZ PIWO BROVARNIA ZE SOBĄ
BEER BOTTLES TO TAKE AWAY!
Read more »