News
NEW SPECIAL LIMITED BEER - AIPA
GRAND OPENING OF FIRST BARREL 11.01.2020, 8 P.M.
Our IPA is highly hopped top fermentation beer with solid malt base.
Color - golden orange, little bit hazy. Creamy solid head that leaves nice lacing during drinking.
Aroma - rich, quite sweet, tropical fruits like pineapple and citrus fruits like grapefruits.
Flavor - medium-high bitterness, pineapple, melon, pomelos, papaya, some citrus fruits like grapefruits
All news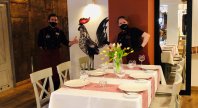 NOWA RESTAURACJA CZERWONY GRZEBYK!
OD 18.05.2020
Read more »